My mum and I have been training with Jack at BWPT in the run up to my wedding and it has been excellent. The whole team at BWPT have been fantastic and are always so friendly and supportive.
I'm over the moon with the results I've achieved as a direct result of joining and I feel much more happier and confident as a person. The buzz you get after each session really spurs you on and the healthy eating programme and support has been invaluable.
I can't recommend BWPT enough – the inspirational quotes and one liners from Jack are worth it in itself!
Ellen 30 Bristol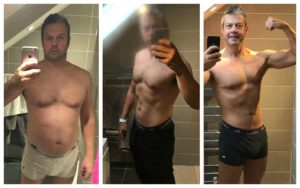 BWPT have found the real me. I came to them at the beginning of 2017 as an overweight, unfit, depressed 44 year old man who was struggling with fitness and the energy required to be a good father and husband, I was struggling mentally to deal with being slow and unfit as I was such an active person until my mid twenties.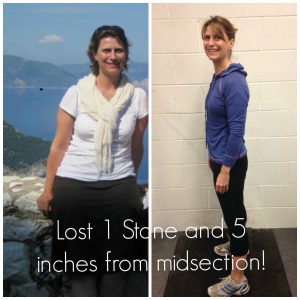 Lisa Joined our programme in October 15 and hasn't missed a workout since, dropping over a stone and losing 5 inches from her stomach in only a few months. " I happen to think what you guys offer is pretty amazing and I tell everyone about you" Lisa, Soil Association, Bristol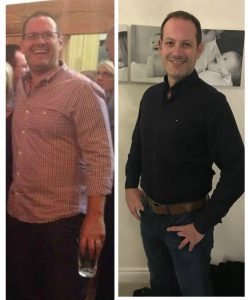 "I've seen plenty of personal trainers in Bristol with some success, but nothing ever worked as well as I felt it should. I was killing myself in the gym and eating pretty well (I thought) but nothing was happening really. I saw BWPTs website, looked at a few testimonials – they seemed to offer something different- so I jumped in; I haven't looked back since. I'm in the best shape I can ever remember being in. What I love most is that there's a proper structure in place, and lots of different tried and tested systems, depending on what you want to achieve. They've done it 100's of times with other people and they're not just making it up on the spot. Can't recommend them enough to be honest" – Jon, Developer, Chew Magna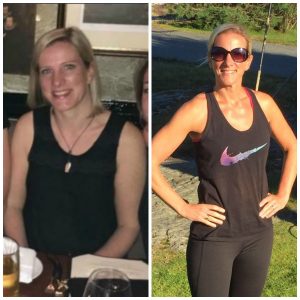 "I've just loved training with you guys – At first I thought 'Im not sure I agree with much of this advice, it's totally different from what i've heard' – Ben told me to have faith and stick with the programme.
I'm so pleased I did, i've fallen back in love with exercise and eating well – I feel so fit and healthy having dropped 8 inches from my stomach and 17lbs in weight!" – Camilla, Marketing, South Bristol
"I never ate in-front of people as I felt people were judging me – now I love powering past slim people on the stairs!"
Barry was voted our member of the year for 2017, having overcome injury and bullying to drop 17lbs and 9 inches from his waist with us – all in time for his wedding. Well done! Barry – Executive – Leigh Woods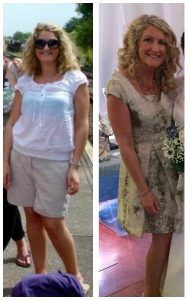 "When I started at BWPT I had already dropped a fair amount of weight but was starting to plateau and was searching for something new and different. I'd found some amazing classes that gave me an amazing workout whilst I was there but felt I had been left to fend for myself when I wasn't in the class and found myself getting lost and confused as to what to eat and how to exercise.
BWPT literally take out all of the guess work, honestly – just follow the programme and it works. Not just that it's amazing fun and I even managed to convince my husband (who hates exercise) to join – he loves it too! " Claire – Advertising – Clifton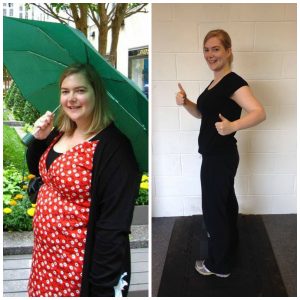 " I had spent so long looking for the 'right thing'. I reckon i've tried 100s of eating plans and diets. BUT; now I know i've found a plan, that as long as I stick to it – Works perfectly. "
Vicky was nominated for member of the year having dropped an incredible 2 stones and shifting 17 inches of fat from her body. Amazing results!
Vicky – HR – Bristol Central
"I was turning 40, my back was continuously giving me pain and I just needed to get things sorted. I now look and feel better than when I was 35!"
Fiona was nominated for member of the year having dropped 1 stone and 8 inches from her waist!
Fiona – NHS – Somerset
"This has literally changed my life…I started the training massively overweight, I was tired irritable, drank far too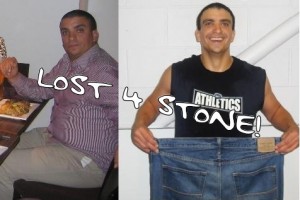 regularly and was very unfit…. I think its fair to say I'm now in the best shape of my life." Ben H – Business Owner – Backwell
Sam came to see us and explained that although she lived a very active life, running a successful business and riding horses, she couldn't seem to shift the weight that had crept on over the years.
I devised a workout program that consisted of fat burning circuits and metabolic conditioning sessions to increase her fat burning hormones and her lean body tissue. I then went on to set down diet guidelines that had to be adhered to in order to guarantee success. The results?
Sam has to date lost a total of 12 inches and nearly 3 stone in weight. Good work Sam!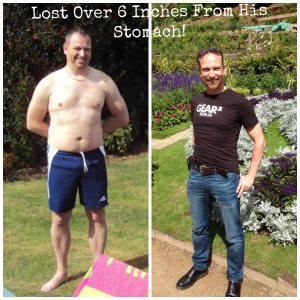 In April 2012, I made a decision to lose weight and managed to lose a fair amount of weight through dieting, However I just could not get in to exercise and my weight loss plateaued. A year later, I met Ben. Through him, I have taken my health and fitness to a whole new personal level. I continued to lose weight (A further 1 Stone) as well as become stronger fitter and much more toned. Although I am now at my optimum weight, I am still achieving dramatic changes in my body shape, and have lost a further 6 inches from my mid section. My diet is now much more managed and consistent. Ben helps me to achieve my goals; which are small and regular. Working with Ben requires commitment, have this and you too will succeed. Daryl – HR Manager – Leigh Woods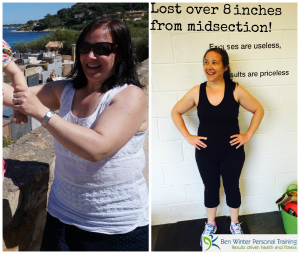 "I have sold my fat clothes on ebay! I've replaced most of my wardrobe, for much more fitted clothes, I actually like and feel good in! In real terms I have lost over a stone and dropped a dress size. Most importantly, I have learnt that low fat diets are not the way to go and how amazing it is, to feel fit and healthy. I like also being able to carry heavier things than my husband!!
Cristy – Mum and Business Owner – Bristol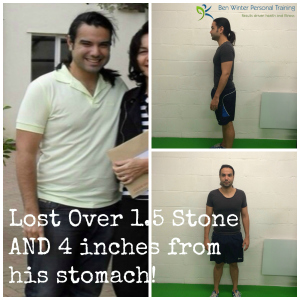 Daniel first came to see us over weight and tired from a demanding job that had him working around the clock. We designed a nutrition and exercise program along with his 2x PW personal training sessions with Shaun, that allowed him to get in the best shape of his life – whilst still maintaining a busy working and family life. Daniel is a shining example of the results you can have in as little as 3 months when you are committed and follow the programme. Well done to Daniel and his trainer Shaun – Fantastic work.
Daniel – Phycotherapist – Clifton
I started training with Ben in September of last year with my 50th Birthday approaching, I wanted to be 'Fit and 50'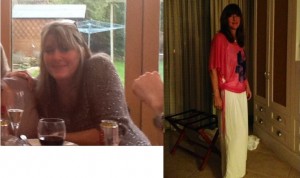 I told Ben all about how I had tried every exercise and diet fad going, from Weight Watchers to exercise DVD's, from gym memberships to counting calories, and although some had enabled me to lose weight, none had managed to help me lose weight AND keep it off without living a horribly restricted life.
I was a busy mum and nurse who wanted to get in shape quickly but most importantly, sustainably…..Click here to read more Kate – Nurse – redland
"I'm so happy with my results! The most amazing thing, I think, is that I actually enjoyed it. The workouts are fun and varied and I always look forward to the sessions!" Elle W – Musician – Cifton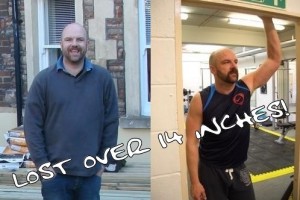 "Ben has been my personal trainer for just over half a year. The remarkable
results I have achieved so far are due to Ben's perfect combination of
diverse training
methods, personalized exercise programs, his challenging yet achievable goal setting, as well as important advice on diet and lifestyle changes that compliment the training sessions.
I have lost several inches of excess fat, gained lean muscle and I have greatly improved my strength and overall stamina. Ben's professionalism, knowledge, enthusiasm and commitment to his work and to his clients, provide the perfect formula for success; paving the way for a new healthier lifestyle" Dr David Morgan – Bristol University
Dawn has always been in good shape, and has competed at a high level at many sports. Dawn was used to being in shape and fit, until kids happened….. Dawn came to see us and wanted her old body back, she wanted to be able to do all the things she used to be able to… 6 months on she's won two gym challenges and is back to being the fittest mum on the block – nicely done dawn!
Dawn – Mum and engineer – Long Ashton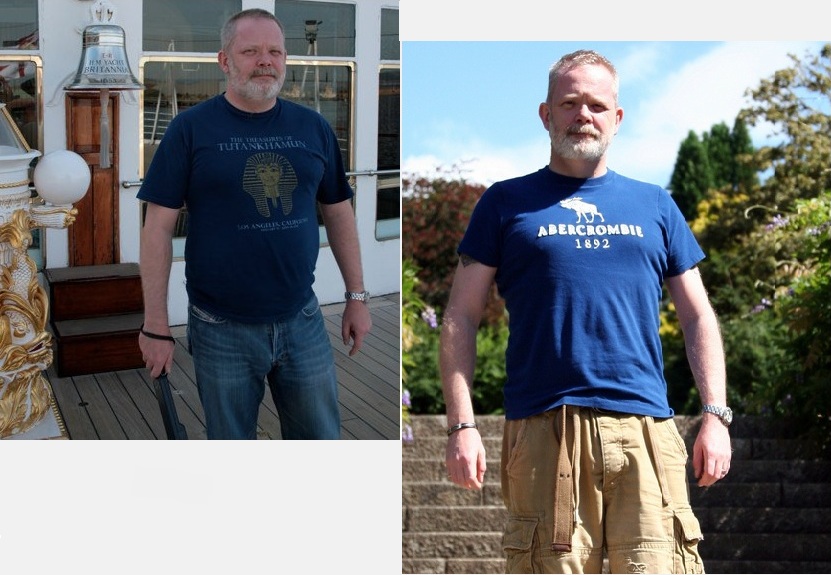 I have been training with Ben for the past 6 months. I am really pleased with the results, I've lost two stone in weight and six inches from my waist; I feel so much better both physically and mentally. My personal programme devised by Ben is varied and never boring, he works me hard for the duration of the workout motivating me to push myself into doing the best I can. Ben also provides excellent nutritional advice which combined with the workouts has made the fantastic results happen so quickly.
David Saddler – Teacher – Long Ashton
Jim is an ex-team GB cyclist turned business owner who sees me two mornings a week.
Jim came to me wanting to bulk up a physique that was very slim due to the high endurance and calorific demands long distance cycling had put on his body.

Jims progress has been on a constant upward path with every re-measurement and assessment yielding great numbers. Jim has now grown out of all of his old shirts and is lifting some pretty heavy poundage as you can see. Nicely done Jim Shaw – Corporate Finance – Clifton
"If you want a personal trainer go to any old gym and you can find one. However, if you want to make changes for good, learn about nutrition and how to m
ake
lifestyle changes that will improve the quality of your life and make you look and feel fantastic, get Ben Winter.
Rarely will you meet someone who cares so much about what they do and about helping you to improve your fitness and many other aspects of your life.
Thanks for all your great work with me Ben, awesome!"
Nick – Solicitor – Nailsea

"I've been training with Ben since last June and have really improved my overall fitness in all areas as well as losing over 3 inches from my waist! The sessions are really well prepared and work around your strengths and weaknesses and they really focus on the areas which need to be worked on. As well as my day job, I'm also a dancer. Since starting personal training I've found my flexibility has improved massively as well as my core strength. Ben is really professional and works to your
personal level and the sessions are really friendly and relaxed. It's great to see the training working and the sessions growing each week!" Carrie – HeartFM – Bedminster
"Im finally as fit as I was when I completed basic training! After retiring from the armed forces and entering the working world I was eating, drinking and smoking myself in to really bad shape…
Ben started by writing me a personalised diet program which I stuck to rigidly and then went about building my body back up from scratch. I've now lost over 5 inches from my midsection 1 stone in weight and added 3 inches to my chest. I'm now so confident in my health and fitness I entered the Bristol 10k with no running training and finished with a time of 55 minutes. I recommend Ben to anyone serious about changing their health and fitness for good!" Kevin Fearon- Engineer / Brisfest organiser
I have been training with Ben for over 3 years and I enjoy my work outs as much now as I did at the start. I find Ben's style of training motivating and enjoyable, and his workouts are always changing and rotating so they don't become boring or repetitive.
When I first decided to hire a personal trainer in Bristol I went to see a few different trainers before choosing Ben. Now 3 years on, I can honestly say I am fitter than I could have possibly imagined I would become.
Even after training for a while Ben does not become complacent, he always takes time to review what your goals are and what you want to achieve. Ben encourages and supports you to push yourself as far and has hard as you want to, in pursuit of your health and fitness goals. Paul – Operations Manager – Leigh Wods
"I have trained Literally 1000's of Trainers to level 2 and 3 standard. Of those people I would immediately employ about 3 of them. Ben Winter is one of those trainers."
Steve Wyatt – YMCA course instructor, Gym owner, Lecturer
"I have been training with Ben since 2008 and still look forward to our sessions! I initially wanted to improve my health and fitness in general. As well as meeting my initial goals, Ben also went on to massively improve my posture and core stability, helping me to win more show jumping competitions on the way! I can't speak highly enough of Ben Winter as a personal trainer" Louise – Amateur Show jumper – Nailsea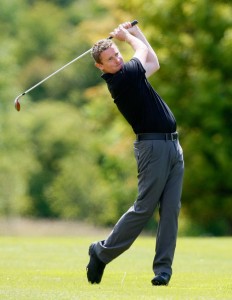 "I started training with Ben in June last year and I can't believe the difference in that period of time. I now regularly drive the ball further, my stamina is better around the course and to top it all off I've lost over 1 stone!
I now tell all my clients that if they want to get the most out of their golf game or if they want to get fit as quickly as possible Ben is the man to go and see."
Alan Johnston – PGA pro
I trained with Ben in the run-up to my wedding in February 2012. I wanted to tone up for the big day and was assured by Ben that with some hard work I could look how I wanted in my wedding dress.
I found the sessions really good, they were difficult but not impossible and I found I pushed myself with Ben's encouragement. Ben was able to offer guidance on my eating habits too which was brilliant. I was really pleased with the results.
I felt more toned and really confident on my wedding day and would like to say a big Thank-you to Ben for his help.
Sam Lippiat – Teacher – Portishead
"I've been training with Ben for around 2 years now and I cannot recommend him highly enough!
As well as being an Osteopath I compete in various sailing races around the country and have found that my core and general strength has improved massively, I have also found my endurance has increased ten fold.
My increase in strength and stamina ultimately led to myself and my crew winning three races in the 2014 season and intend to win more in the coming year!
On a professional level I advise all of my clients to see Ben, whether it be to continue their rehabilitation or to lose weight"
Jon – Osteopath – Bristol Harbour
"I started training with Ben to compliment my sports of Football and Tennis, I soon became quicker, stronger and fitter as well as adding a good amount of muscle to my frame.
Around a year ago I was approached by a club and invited to start the sport of Footsal. 12months later; I am now the captain of my national team. Without Ben's help I would not have been able to switch sports so quickly with such success.
As long as I continue to live in Bristol I will use Ben as my trainer and recommend him to anyone who seriously wants to get in shape or become the best at their sport that they can be"
Dafydd – International Footsal and former professional football and tennis player
Schedule your free no obligation personal training session with Bristol's top personal trainer now
Call : (0117) 287 2191
Email : info@bwptstudios.com
Whatsapp: 07875471952