---
Shaun has been working in the fitness industry for over 7 years, during which time he has built an excellent reputation for working with people with a wide range of fitness levels. He trains his clients hard, pushing them to their limits and encouraging them to get great results.

Whether training in the gym or outside, everyone should have a goal. Shaun's personal goal is to keep fit and train hard for his sport, karate. This has helped him represent his country in the European Championships and he has won a number of titles at the English, British and European Championships. Most recently at the British Karate Championshi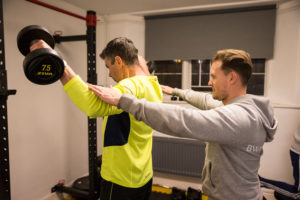 ps in Glasgow, Shaun was crowned the 2013 British Open Karate Champion.
Shaun has been able to compete at this high level of karate by understanding how to specifically train and condition his body. So you, as his client, can achieve what you have always dreamed of: losing weight, toning up, generally getting fitter, gaining strength or training for a specific sport.
Shaun likes to also challenge himself by competing in 'tough guy' events. These are gruelling endurance events, running through different terrains and obstacles and swimming in water. Shaun has been placed as high as 23rd out of over 3,000 competitors! Call now to train with a British Champion.