Power Hour Small Group Training…
Want personal training but can't afford the fee's for 1-2-1 training? Introducing Power Hour personal training.
Ben has developed a new system of training small groups of clients that allows them to have a  60 minute workout with Ben in a small group of 4-6 like minded people. Now for a fraction of the cost of personal training you can enjoy: Tailored workouts, Nutrition plans and monthly assessments  You will learn new and innovative training systems, Have fun training with friends and other clients for the price of only £14 per session. It's not quite personal training…but its the next best thing.
Sessions take place at the private JWfitness studio in Leigh Woods (No members hogging the machines) with ample free parking and shower facilities on site.
What the sessions are:
-Groups of 4-6 people (Mostly single sex groups with mixed groups in future)
-Personal training at a private studio gym in Leigh Woods (No Members hogging the machines!)
-Complete nutritional advice including meal plans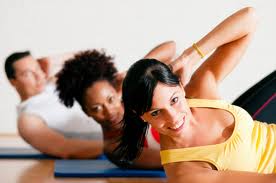 -Friendly and Fun atmosphere around like minded people
-The most up to date training principles and equipment
-Monthly 1-2-1 measurement session to measure results (optional)
-Huge saving on personal training costs
-Exercise and nutrition 'homework' (optional)
-Varied, workouts never repeated
– Results focused
What the sessions are not:
-Choreographed to music
-Overcrowded
-Unspecific
-Impersonal
-Bootcamp sessions (Essentially circuits in the rain)
-Boring
Timetable
Monday – 12:00 (Ladies only Power Hour)
Wednesday – 12:00 (Ladies only Power Hour)
Thursday – 18;00 (Ladies only Power Hour)
Thursday – 20;00 (Mens only 'APT' class)
Saturday – 09:30 (ladies only Power Hour)
Get in touch with Ben now to book your place in one of the Power Hour classes or to request more classes…
Call: (0117) 287 2191
Email: ben@www.bwptstudios.com