BEN WINTER
OWNER
BWPT is led by fitness expert Ben Winter, who is considered the authority on getting everyday people in the BEST shape of their lives. Ben was recently recognised by Lucozade Sport as "One of the countries leading coaches" 
He is the expert people go to when they need help with their own health, fitness, nutrition, mindset and wellbeing.
No matter what your current level of fitness is, if you live in the Bristol area , Ben and his team can show you how to reclaim your body fast and achieve your health and fitness dreams.
JACK SEALY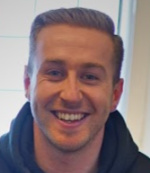 Gym Manager
Jack.
Our gym manager is a fantastic member of the team and has a strong, friendly relationship with his clients and everyone here at BWPT.
He delivers fun but tough tailor made sessions to each individual clients goals – he follows our plans and principals perfectly, to deliver entertaining but challenging workouts – again and again.
He is calm, likeable and leads by example
.
MASON WINTER
Personal Trainer
Mason.
Having played semi professional football since the age of 18: Mason is no stranger to the strains and pressures of an exercise and nutrition program.
Anyone lucky enough to train with Mason will be coached by a man who eats sleeps and breaths his passion, and someone eager and excited to introduce them to the levels of health and fitness that he loves so much himself.