"BWPT have found the real me.
I came to them at the beginning of 2017 as an overweight, unfit, depressed 44 year old man who was struggling with fitness and the energy required to be a good father and husband, I was struggling mentally to deal with being slow and unfit as I was such an active person until my mid twenties.
After a lot of soul searching I contacted BWPT through a friend. My first meeting was hard for me, there were tears and honesty, but I found in Ben someone who empathised and knew exactly what I needed to do. He gave me a programme I felt I could keep to and introduced me to my trainer Shaun Langson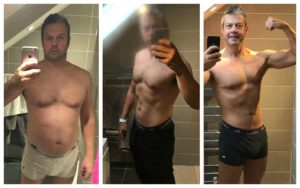 Within 5 months I had lost almost 3 stone and was at my fittest since my early twenties. To say they have revolutionised my life is an understatement, they have saved it! I am happier than I have ever been, I have the positivity of a 20 year old me and my family now have an energetic Dad and husband who is always active and smiling.
Not only have I gained so much, exercise is now a part of my daily routine, I don't even have to think about it, lots of little tweaks make for a big change and I have learned so much from this team of amazing people. I also have a bunch of new friends who help me every step of the way. This experience has had a positive impact of every single aspect of my life! If like me you want to make a change and want to get fit or improve your life these are the guys to come and see."
Jules Barton Hill – Business owner, Husband and Father