You have achieved some amazing results since you started with us Cristy, and we would appreciate it if you would share your story.
What made you decide you wanted/needed to start a program?
I wanted to lose weight and feel fit and healthy again. I wanted to lose the weight I had put on through having a baby and was really struggling to do this on my own. I spent the summer wearing baggy clothes and I didn't realize how much better I would feel in myself, wearing clothes I liked and were more fitted. I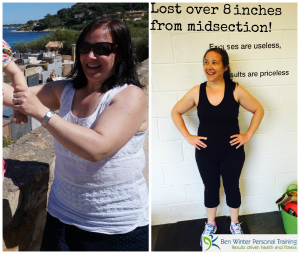 convinced myself that being bigger was OK because I was getting older and had a child.
What results have you achieved since starting your program?
I have sold my fat clothes on ebay, replaced most of my wardrobe, for much more fitted clothes, I actually like and feel good in! In real terms I have lost over a stone and dropped a dress size. Most importantly, I have learnt that low fat diets are not the way to go and how amazing it is, to feel fit and healthy. I like also being able to carry heavier things than my husband!!
What do you like best about our program/having a trainer?
For me it is about achieving things I know I couldn't, or wouldn't, on my own. The trainers push you. I am a very driven and self motivated person, but not when it comes to physical exercise, so having someone who can help me in this area, is great. I love the sense of achievement which has come from this. I was the girl who was always picked last for PE (because of ability and a lack of coordination, not because I wasn't liked!) so to achieve things in this area is very satisfying for me.
What would you say to someone on the fence about joining our program?
Do it, it will be worth it! Ben will make sure it is!
 Click Here – To Start Your Journey and Claim Your Free Consultation Now